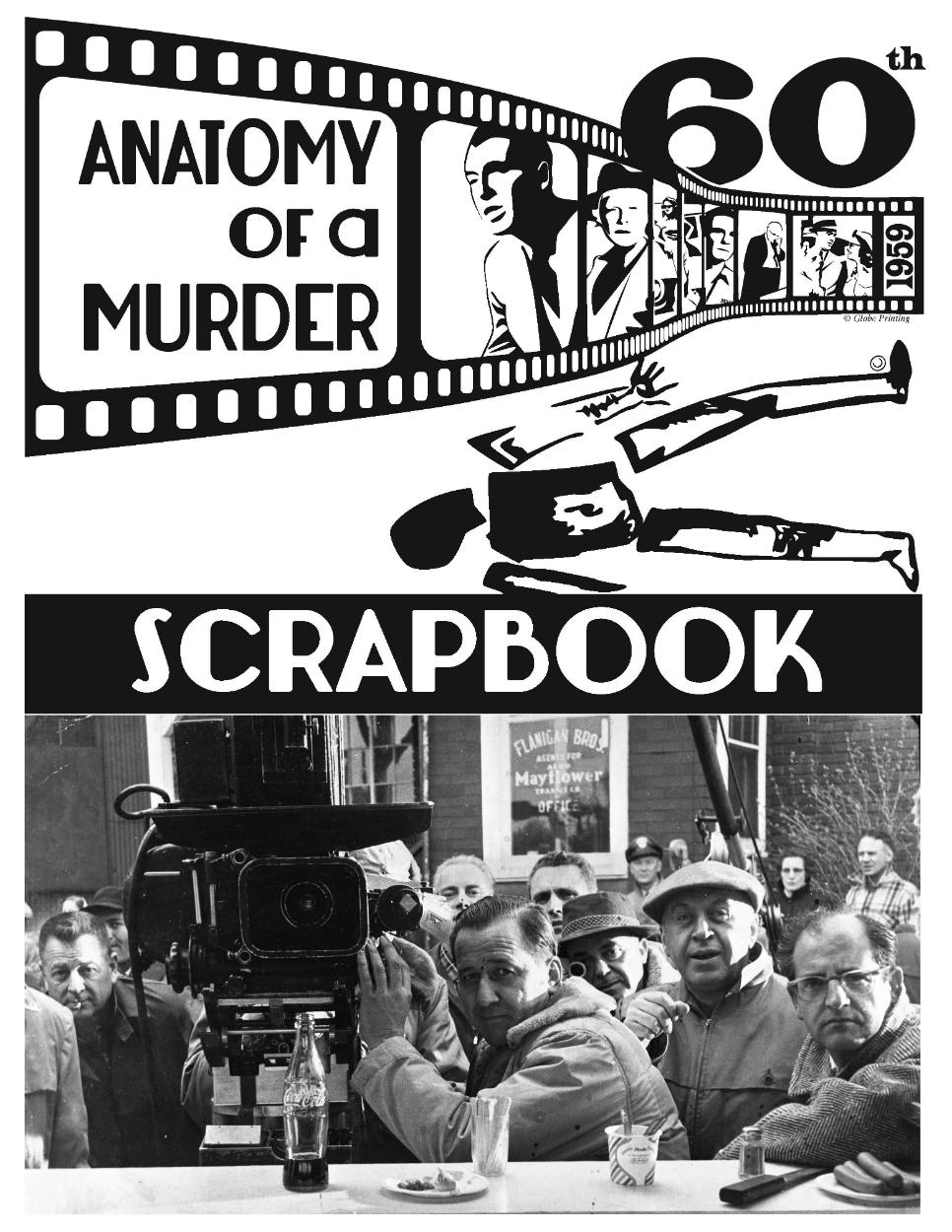 Anatomy of a Murder Scrapbook 60th Anniversary
---
In stock, ready to ship

Inventory on the way
Anatomy of a Murder was released in its film version in summer 1959. The movie starred James Stewart and Lee Remick and a cast that included then relatively unknown actors George C. Scott, Ben Gazzara and Orson Bean. The film was based on the 1958 best-selling book of the same title by Robert Traver.
Traver was the pen name used by John D. Voelker, an Ishpeming lawyer, local author and Michigan Supreme Court jurist. The movie was directed and produced by Otto Preminger. The plot involves Stewart's attorney character, Paul Biegler, defending Lieutenant Frederick Manion (Gazzara) who is charged with the killing of bartender Barney Quill. Biegler argues that his client killed the bartender after an "irresistible impulse" overtook him when he heard that Quill had raped his wife (Remick). Prosecuting the case for the state is Claude Dancer (Scott) who claims that Manion jealously killed Quill after discovering that the bartender and the lieutenant's wife were having an affair. The ensuing courtroom battle focuses on whether Manion could be acquitted by reason of temporary insanity.

The movie stars and film crews working on Anatomy came to Marquette County in late winter 1959. What they found, besides a chilling Upper Peninsula winter, were friendly townspeople enthusiastically willing to help make the movie a success. Jimmy Star, motion picture editor of the now defunct Los Angeles Herald and Express newspaper commented on the cooperation the filmmakers received locally after visiting the set during the last clays of filming. "Preminger has invaded this small town and everybody jumped in to help him get the local spirit on the screen," Star said. "They've turned over hotels, the courthouse, restaurants and trailer courts to him. I've been on a lot of locations, both here and in Europe, and I've never seen such wonderful help."
This scrapbook recounts the memorable weeks of on location filming for Anatomy of a Murder through newspaper articles, personal recollections, photographs and other items, producing an enduring snapshot for posterity of those unforgettable days when the stars fell on Marquette County.

This scrapbook was originally printed in 1999 in a larger format of 11 x 14.  20 years later and we are still finding people wanting to explore the "Anatomy" phenomenon. Reprinted in this smaller format in 2019 commemorating the 60th anniversary.

Thanks to all of our Committee Members
Carol Fulsher, Paul Bonetti, Stacey Willey,
Robert Nadeau, Barb Gauthier, Gigs Gagliardi,
Floyd Luke, Donald Moore, Eileen Small,
Linda Gambel, Joan Hanson, John Pepin,
Jack Deo, Superior View Studios, Michigamme Historical Society, The John D. Voelker Foundation, The Thunderbay Inn, and The Mining Journal
Processing Time: Your order will be processed promptly upon receipt and shipped within 3 business days. Custom items will require additional processing time.
Customs and import taxes: Buyers are responsible for any customs and import taxes that may apply. We will not be responsible for delays due to customs.
Shipping Time: We use United States Shipping Service (USPS) for shipping unless otherwise arranged.  We are not responsible for delays due to USPS services.